About Shree Rajmalji S. Jain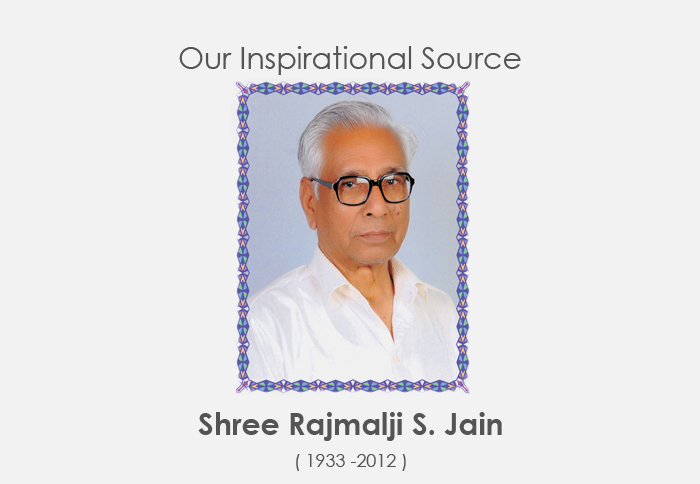 The dynamic force behind our organisation is none other than the compassionate and benevolent, late Shree. Rajmalji Sheshmalji Jain. A simple and softspoken man in person, Mr. Jain's efforts and achievements at making medication and education accessible are amazing.

Born on 14th March 1933 in a small village called Bisalpur in the Pali District of Rajasthan, Mr. Jain has fostered a spirit of national service and societal uplift since his childhood, reflected in his reputation of a young freedom fighter. Mr. Jain migrated to Mumbai in 1954, where he started a small grocery shop. During Mumbai's Flu epidemic in the year 1956, the government was unable to provide adequate facilities for the affected. It was in this situation that Mr. Jain's charitable nature outshone and he travelled door-to-door helping the affected. Since then there was no looking back for him and he devoted his entire life to the needy and downtrodden.

Standard medical facilities were almost absent for the people of Bisalpur and other neighbouring villages in those days. Realizing the situation, in 1966 Mr. Jain established the 'Shree Bhairav Free Clinic', a clinic equipped with modern amenities, providing medical facilities to the population of Bisalpur and its neighbours.

He had imparted his complete heart and soul in the establishment of various institutions including, Bhagwan Mahavir Hospital of Sumerpur, Gurudev Shanti Suri Hospital of Mandoli, Rotary Club Hospital of Jaitaran, Lion's Club Hospital of Idar (Gujarat), and the Acharya Mahapragya Hospital of Vagdari, to name a few. He remains the founder president of Shree Bhairav Seva Samiti, Bhiwandi, which runs two schools for the deaf and a charitable eye hospital.

Mr. Jain's noble efforts have received support from SIGHTSAVERS & SECONDSIGHT of England and The Operation Eye Sight Universal of Canada. He was an honorary member of the Sight and Life Foundation, Switzerland and an associate member of the International Foundation on Ageing, Canada. Even British Broadcasting Corporation (BBC) had aired a documentary on his achievements and his relentless efforts towards the uplifting of the under privileged.

His noble endeavours and efforts have received applause and appreciation from dignitaries including the then President of India, Shree Gyani ZailSingh, and the Chief Ministers of Rajasthan, Shree Bhairosingh Shekhawat and Shree Aashok Gehlot.

Such is the humility of this great soul, that none of his organisations bear his name. His prime belief was "Serving Mankind is Serving God". He continues to remain the pillar of inspiration for our organization. We pray to the Almighty to send more of such gospels again and again who show us the true essence of life.